This team of young innovators from AHLCON PUBLIC SCHOOL, DELHI are one of the winners of the Atal Tinkering labs (ATL) Marathon 2020.
Name of team members: 1) Aditi Jain (Team Leader)  2) Gouri Gupta (Team Member) 3) Sunita Ramrakhiani (Teacher In-charge)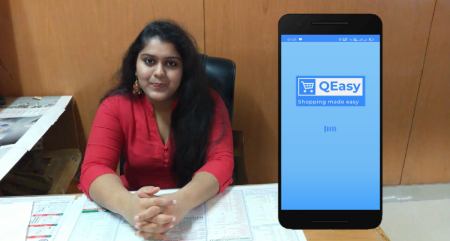 Innovation Summary : Given the current lockdown situation along with the highly contagious nature of COVID-19, the following problems have become impediments and considerable causes of concern with respect to shopping at grocery, vegetables, milk, medical stores and other essential units.
Excessively long queue lines with wait times well over 1 hour. Inefficient queue management and Violation of social distancing in queues. The idea for QEasy originated from an actual encountering of the above-stated problem.
This extreme inefficiency in queue management, eventually causing unnecessary delay, proves to be a significant hindrance to daily household activities.
The mobile application, QEasy is a digital solution to drastically reduce lines at grocery stores to allow for efficient practising of social distancing. QEasy facilitates this by applying a principle similar to appointments at doctors and clinics. The app works on the principle of using token codes and time allotments for consumers. A consumer would enter the shop name following which a list of available time slots will appear. (These time slots will have fixed durations as decided by the QEasy-registered shops) Upon selecting a time slot, the user would receive a confirmation code. 
Impact or how it well help the society : 
1) QEasy will act as a virtual fencing system to keep everyone at a distance. Therefore, fighting against Coronavirus to keep everyone safe.
2) There will be no more waiting in queues thus saving a person's time and efforts.
3) The shopping visits would be completely contact-less and safe.
4) The shopping experience would be transformed into a more hassle-free one.
5) The app also supports #VocalForLocal Campaign since it promotes the usage of local products from local stores. 
Details of school or institution : The winning team belongs to Ahlcon Public School, Mayur Vihar. Ahlcon Public School, is a co-educational english medium school affiliated to the CBSE, established in 1988 by Shanti Devi Progressive Education Society, it is a dynamic learning community that collaboratively endeavours to impart holistic education to the students.
Goodtechgo is a Tech For Good platform and this report is part of our initiative to showcase student innovators across the country.
Disclaimer: The information on the project and its impact have been provided by the school authorities.