This team of young innovators from Mount Abu Public School, Rohini, Delhi are one of the winners of the Atal Tinkering labs (ATL) Marathon 2020.
Team Members:  Prabhmeet Singh, Amrita Dutta
Innovation Summary
The team felt it was important to equip the blue collar workers with the basic digital literacy skills. Keeping this in mind, the team created an application that helps in improving digital literacy skills of blue-collar workers. The whole focus of the team was to create an application that appeals to its users and create a user-friendly interface. Therefore, different tabs have been added in the application that perform different functions. Here is a tab wise description of the application.
1.      VR Training Tab- This tab contains a demo on how to use the app and videos related to their work profile.
2.      Live Update Tab- To help the workers stay updated on what's new in their field and new policies and implementation with regard to their work profile.
3.      Helpline Tab- A 24/7 help available to the users on any challenge faced while using the app.
4.      The Glossary Tab- This is a step-by-step guide to various tools available on the app and the purpose of their use.
5.      Log Tab- This tab gives workers an account of number of hours spent working and the break taken.
6.      Track Location Tab- This tab helps workers to stay connected with each other by allowing them to keep a track of each other's location with the people they allow sharing.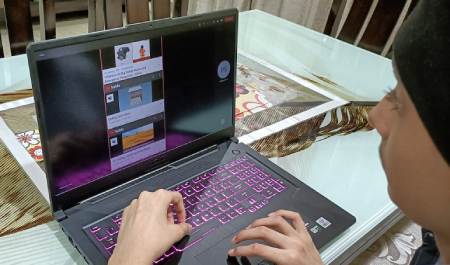 Impact
·        With an extremely simple and convenient interface, this app will prove to be beneficial in breaking the barrier or overcoming the resistance of these workers towards using digital applications.
·        They get to stay updated on how they can improve their work skills and can benefit themselves with new policies and rules with regard to their work profile.
·        With an enriching and satisfactory experience on our app they will be able to promote these digital literacy skills among their family members especially their kids.
About School
Mount Abu Public School Hi- Tech Air-Conditioned Senior Secondary school recognized by Directorate of Education affiliated to CBSE in Commerce, Science & Humanities. The school is an SDG school wherein curriculum is integrated with the United Nations Sustainable Goals with 2030 Agenda and activities involve the community to contribute to the promotion of SDGs. The school has been continuously working towards creating an environment of innovation in its premises and also in the community through its ATL lab since 2017.
Goodtechgo is a Tech For Good platform and this report is part of our initiative to showcase student innovators across the country.
Disclaimer: The information on the project and its impact have been provided by the school authorities.