This team of young innovators from THE SIVAKASI LIONS MATRICULATION HIGHER SECONDARY SCHOOL, TAMIL NADU are one of the winners of the Atal Tinkering labs (ATL) Marathon 2020.
Team Name : Terminators
Team Size : 3
Team members :
S.V.S. YATHEENDHRAN
B. PARIKSITH VARDHAN
S. SANJAY KRISHNA
Innovation Title : Alert Fishermen Alarm System
Introduction:
For the past few decades, our fishermen are facing life threatening challenges near the Indian territory. Due to lack of knowledge about the maritime border and lack of technology, they were crossing the International border, their life is at risk. We decided to help these fishermen by using latest technology to communicate their location at the time of challenges. So we have chosen this theme.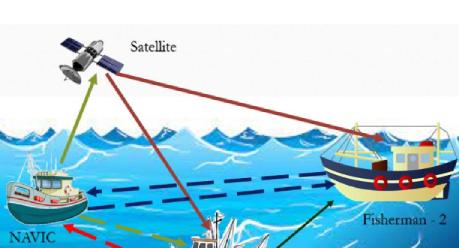 Proposed System
Our proposed system will help Fishermen not to cross the International marine border during deep sea fishing, where the current VHF device does not function. Our device will give a phone call alert whenever fishermen approach towards maritime border, thus helping them to be always within our territory. Our Proposed system is based upon the NAVIC system; through which we can identify the location of fishermen in the deep sea.
The Specialty of our device is that it sends call alerts even when there is no network coverage. Using our system, Fishermen can communicate both onshore and offshore (i.e.) within nearby boats and with land control. Our autonomous vehicle will help fishermen to communicate with others using their NAVIC based Smartphone app. Also our system will help them to guide pathway, navigation route. This makes our device more innovative and different. We are proud that our device not only innovative but also lifesaving.
SCHOOL NAME : THE SIVAKASI LIONS MATRICULATION HIGHER SECONDARY SCHOOL ADDRESS : 2/754-A, Virudhunagar Road, Anaikuttam Post, Sivakasi – 626130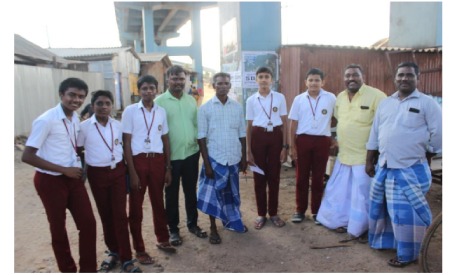 HISTORY :
The School was established by the Lions Club of Sivakasi as the Lions Kindergarten School at Palaniandavarpuram Colony, Sivakasi on 26th August 1968. Bharat Ratna K. Kamaraj, the creator of educational consciousness in Tamilnadu laid the foundation stone for the school building, constructed with generous donations from the members of the Lions Club of Sivakasi and other philanthropists of Sivakasi on 6th April 1970. The school has steadily grown into The Sivakasi Lions Matriculation Higher Secondary School and has been providing excellent education in English to the children of this part of the country. Last year the school celebrated its Golden Jubilee. We received ISO 9001:2015 and 5S Quality Control Certifications last year.
Goodtechgo is a Tech For Good platform and this report is part of our initiative to showcase student innovators across the country.
Disclaimer: The information on the project and its impact have been provided by the school authorities.