Bioprime Agrisolutions is a finalist in the National startup awards in the Agriculture category. It is an agrobiotech startup focussed on helping farmers reduce crop losses, raise yields and thereby incomes. Promoted by three doctorates in plant biotech, the startup could be a game changer for Indian agriculture looking towards sustainable practices.
Bioprime Agrisolutions Pvt Ltd, based at Pune is an Agribiotech startup founded by three researchers Dr Renuka Karandikar, Dr Amit Shinde, Dr Shekar Bhosle with the goal to offer relief to farmers worldwide, struggling with impact of climate change. Bioprime is incubated in Venture Center, NCL Innovation park Pune and have a 3000 sq ft independent lab and production facility.
What does Bioprime do?
SNIPR Biologicals are unique agri inputs based on small biomolecules signalling. These bio molecules start process in crops that help them defend themselves faster and better against fluctuating climatic conditions. The molecules are not crop specific and can be made into liquid formulation for drips, spray or into granule formulation for broadcast. This gives farmers targeted, rapid acting and tangible results that reduce crop losses by 25%, increase yields 30%. This helps farmers increase their income per crop by 30-40%.
As these biologicals are use specific combinations of biomolecules, Bioprime is able to target and modulate multiple pathways precisely. This means that the company is able to deliver 2 X faster and tangible results on filed even in the most adverse conditions. Being able to target critical pathways means we can deliver assured growth that translates into assured yields even in low light, low temperature conditions or reduce crop losses and mitigate heat and drought stress.
These products are certified organic as per the APEDA, NPOP standards are tested residue free. The products have been tested in over 9 crops and 8 states in India. The products are undergoing validation at reputed state and IARI centers in the country.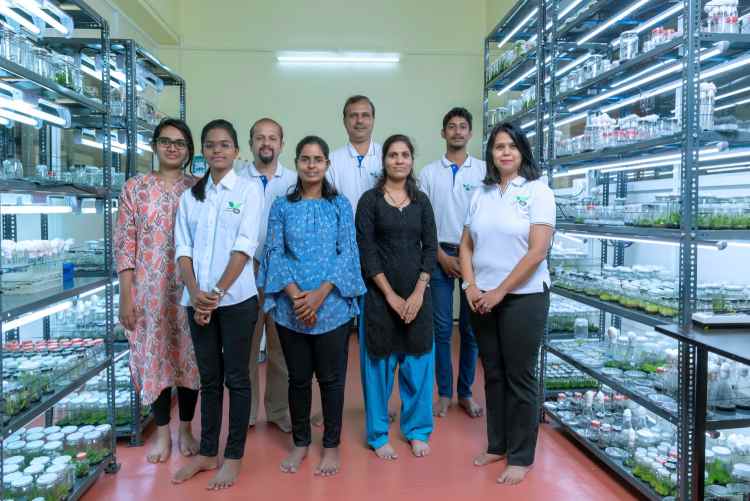 Product summary:
SNIPR Biologicals- 4 Products have reached commercialisation stage.
Prime FortiSea is a unique formulation of Australian bull kelp based on proprietary cold extraction process. Contains fortified seaweed concentrate for faster growth and stress resistance. It gives instant boost to vegetative growth and photosynthesis
Prime Verdant is a bioactive consortium with nano components for active growth and over all development. It contains plant based antioxidants, anti-traspirants. It is particularly Beneficial under conditions of water stress, temperature fluctuations & high biotic stress.
Prime Chiron is an advanced complex blend of naturally derived essential minerals and nutrients that act as a super charger. It contains readily absorbable photosynthetic intermediates for instant boost in quality and yield. Chiron reduces flower drop and fruit drop, gives shine and luster. Useful to increase sugar content
Prime CG Pro is a scientifically formulated bioactive consortium containing photosynthetic intermediates and botanical biostimulants. CG Pro triple action formula boosts active growth, reduces stress, and gives assured bumper harvests of the superior quality. Fast acting bioactive formulation of plant based actives that acts like a super booster.
Who are the promoters?
Bioprime was founded by Dr Renuka Karandikar who has done her PhD- Plant Biotech and Post Doc- Genetic Engineering. She has over 15 years of research experience in plant bioactives with over 10 publications in international journals, technology transfer and patents to her credit.
Dr Amit Shinde has done his PhD- Plant Biotech and before joining Bioprime was working as RnD Head at KF Bioplants. He also has extensive research experience of over 15 years in plant bioactives with over 12 publications in international journals.
Dr Shekhar Bhosle, PhD in Mycology has 10 years in microbial bioactives. He has worked in Entrepreneurship support and development in Science and Technology Park.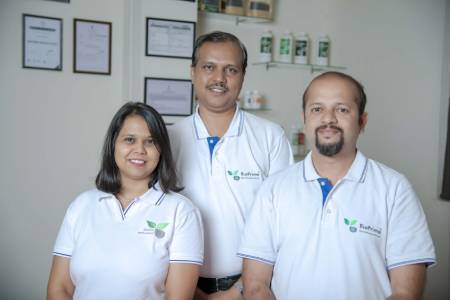 How does it impact society:
Globally climate change affects more than 70% of all agriculture. Annually Indian agriculture suffers a loss of US$ 42.66 mil 17.5 % of this is due to insect and pests. Climate change today affects more than 70% of all agriculture in India. Insect, plant pathogen, and pests destroy more than 40% of all potential food production each year despite the application of approximately 3 million tons of pesticide per year.
Productivity is decelerating & the highest yields can only be obtained by using ever increasing amounts of inputs. This has entailed increased building up of pest/diseases with higher resistance further reducing crop yield. These practices results in ever escalating input costs and produce with higher residues which are subjected to import restrictions internationally for failing to comply with safety norms. A sustainable commercially viable, effective alternative could prove to be a game changer for Indian Agriculture.
• Minimum yield increases related to SNIPR based products use are at 5-10%.
• Fertiliser use efficiency is being documented to increase by 5% at a minimum (and may go as high as 25% or more) when SNIPR biologicals are applied.
• Pesticides savings related to SNIPR biologicals use are in range between 10 and 15%.
• Quality characteristics such as fruit setting, homogenous colour and increased size are enhanced in some cases by as much as 15% when SNIPR biologicals are used. Increased quality has downstream benefits as well: farmers may be able to garner higher prices for their produce, and produce is likely to be more tolerant of storage and handling.
• Improved quality has a positive impact on storage and conservation, giving farmers more time to choose the best moment to sell their crops at advantageous prices.
• By making existing agricultural practices more efficient and improving post-harvest storage SNIPR biologicals are able to increase farmers earnings/acre.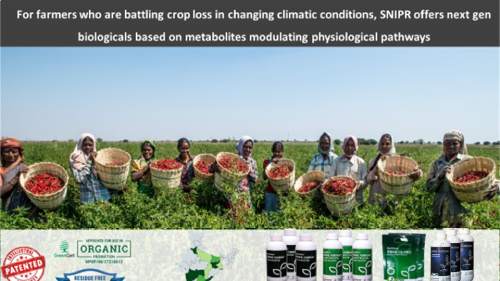 Awards and recognition:
DIPP recognition, DPIIT recognition from the Intra mistrial board
Awarded BIRAC, Department of Biotechnology, Biotech Ignition Grant 2016
First company to receive BIRAC, Department of Biotechnology's Seed fund 2017 and Leap fund 2020
Awarded Niti Ayog's Atal New India Challenge (ANIC) 2020
Awarded Ignite fellowship -BIRAC & Cambridge Judge Business school, UK 2018
Awarded TIE- BIRAC WINER Award at the hands of Hon Minister Piyush Goyal 2019
Awarded National Bio Entrepreneurship Award NBEC 2018 from Social Alpha
Won "Growth challenge" Unltd India 2018
Won Agriprenuer pitch competition- Sakal group 2018
Selected – "Innovation showcase" Global Entrepreneurship summit (GES 2018) by Start up India
Top 10 global finalist in Future Food Asia awards, Singapore.
Invited to present work at the British High Commission with HRH Prince Charles 2018
Finalist- Maharashtra Start up Week 2018