Evlogia Eco Care Private Limited is a Bengaluru based startup founded in 2018 by Serial entrepreneur Manigandan Kumarappan who took entrepreneurial route after working for multinationals like Accenture, Samsung and Wipro in senior positions.
Evlogia makes eco friendly cutlery to replace single use plastic. This startup has earned many accolades in the short span. Evlogia's first flagship product, Leafy straws, made from fallen coconut palm leaves has received the fastest granted patent in India (patent awarded in 7 months from application filing). Evlogia is soon introducing many more single use cutlery including take away container boxes, plates, cups, planter boxes, etc. with a single focus of replacing plastic and developing the rural economy with global export of make-in-India products made in a circular way.
These straws are approved by the US FDA, Health Canada and EU for direct food contact compliance. Evlogia is making these straws in their factories by employing all women staff from poor backgrounds and exporting it to many countries including US, Canada, UK, Australia and Germany.
Evlogia has won many prestigious awards including Climate Launchpad social impact startup of the year award globally, CII top manufacturing startup of the year by CII startupreneurs, Big Leap 2020 winner of national business plan contest and Circular Innovation Jam Global winner 2020 by The Incubation Network. Evlogia is ably supported by Karnataka state startup cell through the Elevate grant-in-aid and seed investment by HPCL.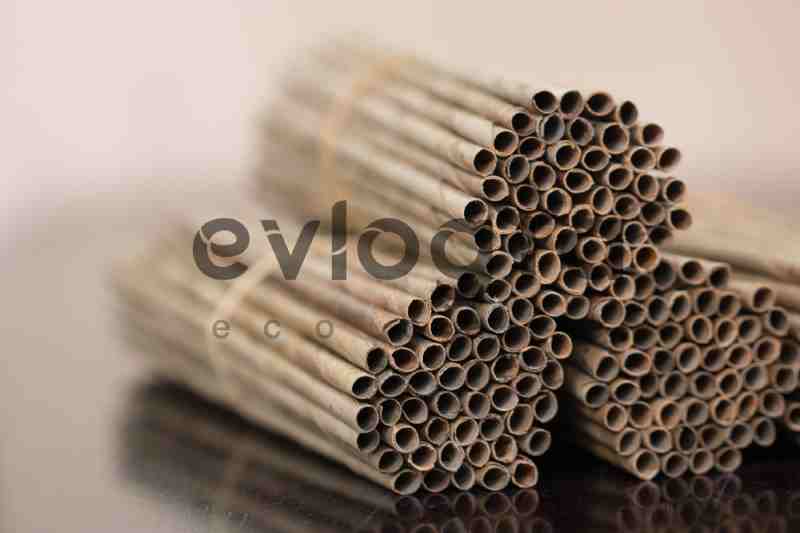 Key features of Evlogia:
Started production in Jan 2019 with 3 women staff, now our Bangalore unit alone employs 15 women staff all from local neighborhoods and poor backgrounds.
Provides augmented income to women self help groups and agricultural laborers (around 50 of them) associated as our extended production units
Patent awarded in record time
Exported to US, Canada, Australia, UK, Germany and UAE, list continues to grow
Most cost effective organic drinking straw across the world, price varies between 1.5 to 3 rupees depending upon the size
Seed investment support by Hindustan petroleum
In line to grow 10 times by mid 2021 as single use cutlery demand and plastic ban are in favour or our growth
Very soon introducing other plastic alternative single use cutlery including cups, take away container boxes
Team includes Manigandan Kumarappan, Mrs Radha who is a woman entrepreneur on the board and David, Leo and John who are the three young engineering graduates started as interns and became part of the core team.
What is the problem that the product solves and how big is the market?
With increasing awareness against plastic use many governments started imposing bans on single use plastic items including plastic drinking straws. Right now the closest plastic straw alternative is paper straw which is not 100% eco friendly as it has petroleum wax coating and besides trees are being cut to make paper.
Paper straw market grew 5000% in the last one year and is dominated by Chinese manufacturers. Other organic alternatives like Hay, Bamboo and Edible straws are too costly and cannot be produced in huge volumes due to raw material limitations. On the other hand our country faces severe air pollution due to burning of agricultural and other plant waste generated in tons every day.
Evlogia provides a solution in the form of Leafy Straws that are 100% organic drinking straws made out of fallen dried palm leaves. Evlogia has patented solutions for regular and tetra-pak forms or Leafy straws. By converting the fallen dried palm leaves waste to useful Leafy straws, Evlogia also helps reduce air pollution and also generate employment for rural women.
The Total addressable market for single use plastic straws alone is 2 billion USD worldwide and including other disposable cutlery the market size is 15 billion USD annually. Leafy straws are the most cost-effective organic plastic alternative and possess better quality than other competing alternatives including paper. Leafy straws can stay intact in fluids for long hours without getting soggy and can be made at custom sizes. Leafy is the only plastic alternative that can function as tetra-pak straw with piercing strength.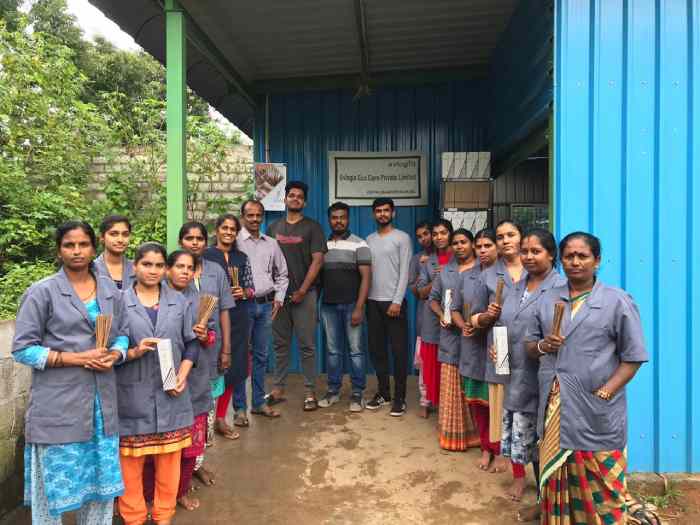 How was Evlogia funded?
We started with a bootstrapping round from friends and family. Soon we were supported by the Karnataka state government via the Elevate Idea-to-PoC grant scheme which was instrumental in moving from ideation to product stage. This was soon followed by seed investment from Hindustan Petroleum (HPCL) and the investment helps us with our automation efforts and production scaling up. We get very supportive feedback from our prospective investors especially those who are in the impact and clean tech sector. Since we want our next round to be bigger we are working on increasing revenues and we are very hopeful in succeeding this exercise once hospitality and F&B industry returns to complete normalcy post Covid.
What are the challenges you face?
We are facing cash flow issues as our revenue has significantly dropped due to closure of business across the world due to the pandemic for the past 7 months. We are managing by following lean operations and effectively utilizing this time to prepare for future demand. Another issue we see especially in Indian market is the cost of our product. Plastic ban remains in paper and cheap quality paper straws and cutlery imported from China are available much cheaper and convincing customers is a challenge. But I must say it is changing very fast and customers are becoming more and more aware and supportive of eco friendly solutions.