Fibroheal Woundcare is a biotech startup working exclusively on 'Silk Proteins' for wound healing and are among the few companies working on this versatile biomaterial called Silk Protein.
They work on non-textile application of Silk Protein to develop innovative, cost effective wound healing products for acute/chronic wounds or non / slow healing or difficult to heal wounds.
India being the second largest producer of Silk in the world and depending solely on imports to cater to various wound healing requirements sounded incongrous. This led to their research on using Silk which being a versatile, perfectly biocompatible material and its abundant availability in Karnataka made it an ideal candidate for their research focus.
Initial support for product development came from DBT / Department of Biotechnology, Government of India, in the form of a grant. CCAMP- Centre for cellular and molecular platforms under ministry of science and technology has also validated the concept and has invested in Fibroheal Woundcare Pvt Ltd.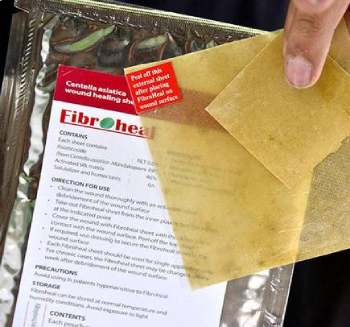 With patented products in their basket, they have built an ISO 13485 compliant state-of-art facility, and have a CDSCO license for manufacturing. They have installed automated machines to increase the production capacity to cater the demand and for timely supplies.
With an experienced management team their focus is on making a difference in the wound management sector with their tech expertise and their product. The ambition is to be a comprehensive wound care Indian company catering to the entire wound care continuum.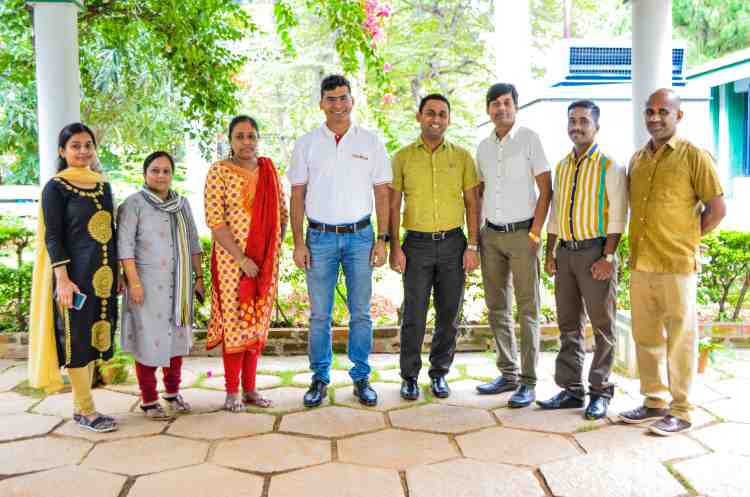 Product summary:
Fibroheal has indigenously developed and patented nine products derived from Silk proteins in the woundcare management segment. They are all now in the market and have started generating revenues. They offer a wide range of products in different forms such as film, sheet, mesh, foam, powder, ointment, gel etc to treat different types of wounds such as clean wounds, non-infected wounds, infected wounds, difficult to heal and slow or non-healing wounds etc.
Additionally, few newer concept-based products are in the pipeline which we are aiming to launch by 2021.
Their products are being used in more than top 50 major reputed hospitals across India, and till now 20000 patients have been treated with their woundcare products.
Promoters:
1) Vivek Mishra, founder and CEO and comes with wide ranging experince in the medical devices and healthcare industry, with stints at Simplilearn and Metahelix Life Sciences.
2) Bharat Tandon, co-promoter and director, was the founder of Vetcare which was later was acquired globally by Cargill. He is an experienced techno-commercial professional and provides guidance and strategies from lab to market.
3) Subramanian Shivaraman, co-Promoter and director was a former co-founder of Sutures India now renamed Healthium Medtech Pvt Ltd. With over 26 years experience in the industry, he had built the second largest sutures company in India having world wide sales.
Social Impact:
India is the second largest silk producing country in the world. Karnataka alone produces nearly 70% of the country`s total mulberry silk. Sericulture farming provides jobs for about 10.6 Lakh people in Karnataka directly and indirectly. More than 1.2 Lakh families in Karnataka are depending on Sericulture and mulberry cultivation. But a large amount of silk is wasted in the value chain from reeling to weaving which can be utilized to develop products for biomedical use. This is where Fibroheal steps in to fill the gap.
Apart from the economic impact of bringing down imports Fibroheal lowers hospitalization costs for patients, reduces the duration of hospital stay due to faster turnaround time. Minimal dressing changes are required thus reducing nursing staff / doctors time and load on hospitals. It helps in faster healing of diabetic ulcers, chronic and non-healing wounds etc.
Awards and recognition:
Awarded as one of the winners of ELEVATE 2019 and recognized as one of the most innovative startups from Dept. of IT, BT & ST under Startup Karnataka, Govt. of Karnataka.
Have been one among the finalists in NEST at ICAR NIVEDI, Maharashtra Startup Week 2020 & National Startup Awards 2020
Supported by Dept. of Biotechnology Govt. of India, BIRAC, CCAMP, KBITS.