INVENTINDIA (www.inventindia.com) is an award-winning innovation company focused on developing patentable products for businesses across the globe.
InventIndia covers the full spectrum of product design, development and engineering from concept to production to distribution. They have designed and developed more than 100 products that are at various stages of prototyping, tooling, production or commercialization.
Some of the industry segments they are actively working in are medical devices, FMCG, telecom, hospital furniture, wearables, consumer electronics, security and surveillance and home appliances.
Their clients from across the world range from individual inventors, funded/non-funded startups, mid-size companies to large corporations.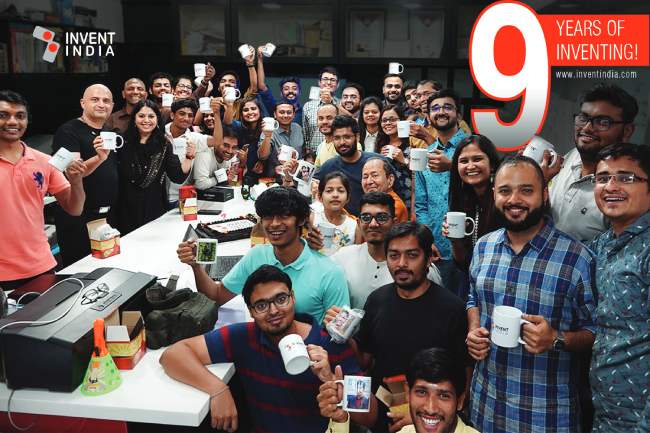 Product Summary:
They support their clients towards creating value at each stage of the product development cycle right from the idea, patent, conceptualization, industrial design, engineering, prototyping, tooling, production, assembly, branding, packaging and distribution.

Some of the products designed, developed and engineered for their clients could be referred on http://portfolio.inventindia.com/.
Following are some the products they have worked on:
BTL FLEXI: Pocket Sized ECG System (https://www.btlnet.com/news/launching-btl-cardiopoint-flexi)
The award-winning product – BTL Flexi is the world's smallest ECG device that facilitates the access to the patient's bed and allows safer handling of the patient. The system is paperless which saves costs and reduces the exposure to bisphenol used in thermo-printing. The challenge in this project was to make a compact product with an optimal size display and a method to dock the product.
Advino Curalasor: World's first dual head physiotherapy device
CuraLaser, is a revolutionary portable Dual Laser & HVLA Bio-Stimulation device. It's a first-of-its -kind medical device with 2 application heads. It works on proprietary Cellular Regeneration Technology (CRT) which combines a low-level photonic laser therapy and nano-molecular bio stimulation technology. This product has won several awards and has various mentions as an Indian startup having the potential to establish a global brand for a universal physiotherapy product.
TEARADO: The Self Heating Smart Tumbler  (https://tearado.tech/)
InventIndia engineered the first smart tumbler for Tearado that combines tea with tech to experience healthier, more productive living. The smart tumbler will heat water, infuse tea and then remove the tea leaves from the water automatically. The product was launched in CES, US 2019.
TAPECLIP: The World's smallest Tape Dispenser (http://tapeclip.net/)

TapeClip, The World's smallest Tape Dispenser, is ideal for home, office and heavy industrial use. This patent granted product is sleeker, greener, quicker, easier and cheaper.
IXM TITAN: Apple of Biometric Industry (https://www.invixium.com/products/titan/)
TITAN is Invixium's flagship product meticulously designed to blend the latest technology with stunning aesthetics and an unmatched performance. TITAN incorporates Facial Recognition and Finger Vein or Fingerprint biometric modalities to be the pinnacle in physical security and user convenience. There was a need to celebrate its size and robustness so that it stands out of the crowd. The engineering demanded a very versatile packaging solution as this product caters to almost all kinds of access control devices and different sensors. The product finally had a metallic enclosure with seamless finish to give a very premium positioning.
As a value addition to meet the current Pandemic, an extended version of the product was developed – "A COVID19 Solution". This enhancement kit includes 'contactless' access control, employee time tracking, & visitor screening based on temperature detection through thermal sensors as fever checks have become a norm in this era.
Duke University: ReInvent the Toilet (Funded by Gates Foundation)
(http://washaid.pratt.duke.edu/work/water-sanitation/reinvent-toilet-challenge)
Duke University had invited us to work with them on an exhibition project for a futuristic toilet. The intent was to use various technologies and filters. In this one-of-a-kind display, prototypes, mockups, graphical elements, animations, stall design, branding & overall experience design. The Gates foundation had sponsored this Reinventing the toilet initiative that was finally exhibited in Beijing.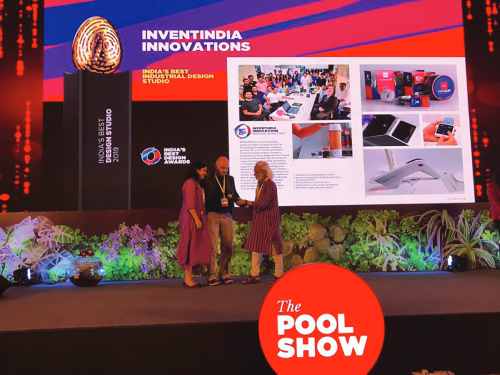 Info on promoters and their background:
Sanandan Sudhir, President & CEO
An alumnus of the prestigious National Institute of Design, Ahmedabad; Winner of several Industrial Design & Engineering Awards; Sanandan (Sandy) Sudhir is an accomplished Design Leader. With more than 20 years of experience of proven abilities in Product Design & development, establishing new design studios, conceiving and executing new projects; Sandy is a true thought leader with a passion to create end to end products focused on IP strategy.
Sandy is the Founder & President of InventIndia Innovations Pvt. Ltd. and Founder of Indian Inventors Association, a global platform for bringing all inventors & innovators together. His patented product On2Cook (https://www.youtube.com/watch?v=U9b8gCBWt-s) has been onboarded to BRINC Food Tech Accelerator in Hong Kong. An inventor at heart, he has 10 Global Patents (granted) & more than 32+ applied for (https://patents.justia.com/inventor/sanandan-sudhir).
Jyoti Sudhir, Director & COO
A Graduate of the Goldman Sachs 10000 Women Program from the prestigious IIM, Bangalore; Jyoti Sudhir is the Director & Co-founder of InventIndia Innovations Pvt. Ltd. An alumna of the prestigious Lady Irwin College, Delhi University; Jyoti Sudhir holds a Masters in Human Development.
With a rich experience of 17+ years in leadership, team and organization transformation, Jyoti is the immediate past Chairperson for the Indian Woman's network, CII and plays a significant role in policy and advocacy.
InventIndia: Impact
Around 20+ of our products are in the market; 10+ have now entered the Tooling & Production cycle. We have 10 granted global patents and 36+ filed patents for InventIndia or as Co-Inventors with our clients.
• Range of Biometric & Surveillance Cameras: Focused on Home & Workplace safety including public areas such as airports, public transport etc.
• Products for Babies: Focused on reducing Infant Illness and mortality
• Hand washing machine: Hand operated washing machine focused on saving water and electricity and leaving a lighter footprint.
• Reinventing the Toilets: seeking a 'safe and dignified solution' to the sanitation crisis. InventIndia collaborated with Duke University to work on the Bill & Melinda gate foundation funded project reinventing the toilet aims to improve the way the world protects people and water from human waste. The project focused on dealing with the issue of unsafe sanitation, open defecation that leads to mixing of human waste with water sources used for cleaning and drinking.
• Water Purification: Our water purification project is focused on providing filtered water to the villagers eliminating the health hazards owing to the high nitrate/metal content in the water.
• Truck and car cameras: These cameras addressing vehicle and road safety and are focused on making driving safe and more accountable.
• Medical products: This vertical is focused on innovating medical devices that have the potential to change the face of healthcare in developing countries. Some of the products that we have developed in this category are: – an ECG Device, a patient trolley system, dual head physiotherapy, VAP care device, Fetal Monitoring Device to mention just a few.
• Smart Roof: This is focused on lowering the temperature to deal with extreme heat and humidity through material and finish innovations on the roofs and walls in low cost housing projects.
• Wearable devices: wearable device that keeps senior citizens and loved ones safe and devices to assess the emotional state of the user.
• Air Quality Monitoring: This Is a device for testing the quality of air and measuring the particulate matter and also feeding big data to larger cloud-based air quality monitoring system.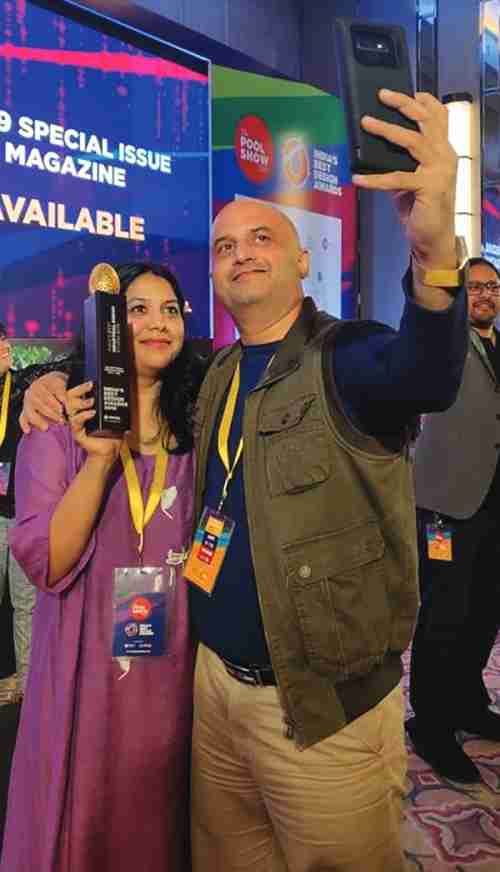 Awards or Recognitions:
India's Best Design Awards 2020 http://www.indiasbestdesignstudio.com/invent-group/
iF Design Award 2020 For TapeClip: World's smallest tape dispenser https://ifworlddesignguide.com/profile/14704-inventindia-innovations-pvt-ltd
International Design Award Silver, 2020 – IXM Titan – The most advanced biometric device ever engineered
https://idesignawards.com/winners/zoom.php?eid=9-25081-19
Winners of The National Entrepreneurship Award (NEA), 2019 by Ministry of Skill development and Entrepreneurship along with cash prize of 5 Lacs.
India's best Industrial Design Studio, 2019 by The Pool Show, Conrad Pune http://www.indiasbestdesignstudio.com/inventindia-innovations/
Design Intelligence Award (DIA), China 2019 – for Tape Clip: World's smallest tape Dispenser (Patented in USA and UK)
A'Design Award, 2019 – For Trazor Gel Multifunctional Wet Shaving system https://competition.adesignaward.com/design.php?ID=69566
Bronze at the 11th #InternationalDesignAwards (IDA) for InventIndia in the Industrial and Life Science Design/ Medical/ Scientific Machinery Category, 2018 For BTL Flexi 12 ECG system https://idesignawards.com/winners/zoom.php?eid=9-17987-18
Gold Medal for BTL Cardiopoint CPET system at Medical Expo Salmed, Poland 2018 https://www.salmed.pl/en/news/salmed-gold-medal-winners-2018
International Design Awards, 2018 – Advino CuraLaser https://idesignawards.com/winners/zoom.php?eid=9-20775-18
Romanian Inventors Society Product Invention, 2017 – Tape Clip
Asia Design Excellence Awards, 2017 for Biostamp 3S (Security Devices Category)
National Business Excellence Award by National Institute of Education & Research, New Delhi, 2017
Gold Medal, INPEX Invention show USA, Office Supplies and Stationery, 2017 for patented product Tape Clip.
Young Innovators Challenge Award, 2016 by 3M & CII for VAPCare Device