By Binu Karunakaran
While Cleantech, with relatively few unicorns, continues to remain in the mature phase, the sub-sector suffers from a 'scaleup gap' says the recently released Global Startup Ecosystem Report (GSER 2021).
Cleantech is on a steady growth path as individuals and governments absorb the urgency of the United Nations' climate report released in August.
"But if we were to scale most existing green technologies we could reach, or almost reach, our net-zero goal. Therein lies the bigger problem: the Cleantech Scaleup Gap. That is the failure, so far, to scale all but a few Cleantech startups," writes JF Gauthier, founder and CEO, Startup Genome, in a foreword note to the report.
As our global community of founders becomes larger and more diverse, the challenges we face also are growing. Our greatest responsibility is to take on climate change, which threatens the survival of our planet, writes Gauthier.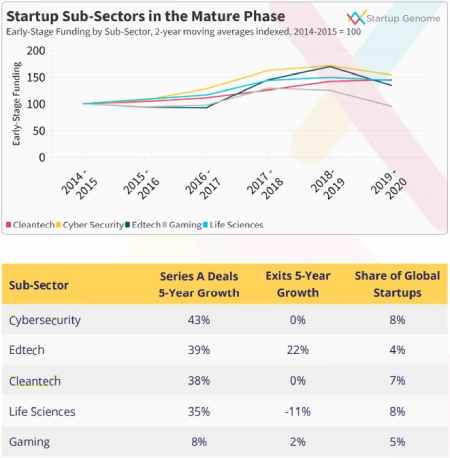 The Global Startup Ecosystem Report (GSER 2021) is brought out jointly by Startup Genome, a policy advisory and research organization
committed to accelerating the success of their startup ecosystems and the Global Entrepreneurship Network.

The composition of Mature Sub-Sectors has shifted since the last GSE analysis in 2019. Cybersecurity, Cleantech, and Life Sciences remain in the Mature Phase. Edtech and Gaming are new entrants, returning from a decline in 2019. Collectively, these sub-sectors saw growth of 33% in Series A funding and 3% in exits over the past five years

GSER 2021 says countries like United States, Canada, the United Kingdom, and South Korea have committed to making dramatic inroads against global warming. "Around 35% of cumulative emission reduction by 2070 will emerge from technologies currently in prototype or demonstration phases," the report said quoting the International Energy Agency. Technologies not yet commercially deployed at scale will account for another 40%.

The Deep Tech sector remains the fastest riser, accounting for about 30% of capital invested in tech globally since 2015, a thumbs-up sign for the thousands of startups that will leverage revolutions in technologies like AI, Big Data, Advanced Manufacturing & Robotics.

The Startup Genome has partnered with others to launch Entrepreneurship For Climate (E4C), a movement uniting entrepreneurs, startup ecosystems, funders, and policymakers to solve the four biggest challenges to scaling Cleantech startups so they achieve massive impact all around the world.