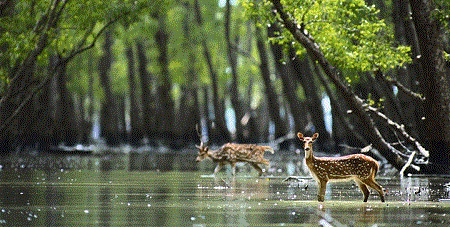 E-patrolling through smartphones in the Sundarbans mangrove forests is being intensified, an official of the Sunderban Biosphere Reserve said here on Tuesday.
"We are planning to intensify our e-patrolling. We are working out plans to intensify patrolling day and night," S. Kulandaivel, Conservator of Forests and Joint Director, Sunderban Biosphere Reserve (SBR), told IANS.
"Tiger straying is common in the month of November, December, January which are the breeding months. They come out during this time so we are keeping watch. Basically protection is our top priority. We are keeping our eyes always open.
"For this we are motivating our Joint Forest Management Committees to be part of our protection mechanism," Kulandaivel said, adding altogether there are around 600 patrolling staff including the Sundarbans Tiger Reserve.
e-patrolling is enabled through patrolpersons who move in boats in the Sundarban creeks and keep vigil and track animal and man movements across the forest.
They have smartphones with specially installed software so that whatever movement they track inside the forests gets uploaded on the SBR's database and officials can assess the situation.
"So if they spot any animal, villagers, third party at a particular location.. every information is updated through GPS reading. They also note down everything physically. This way we always track the activities of the patrol persons and their movements," he added.
–IANS